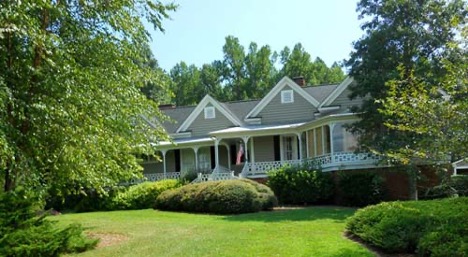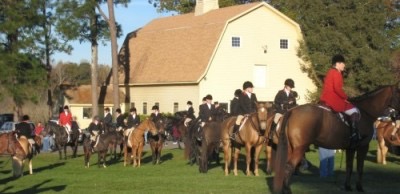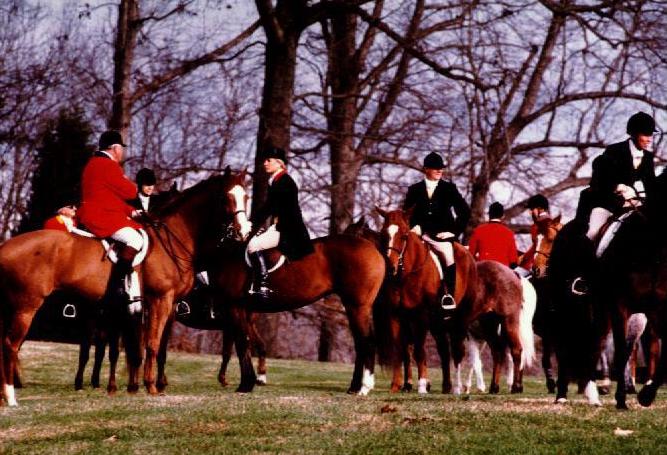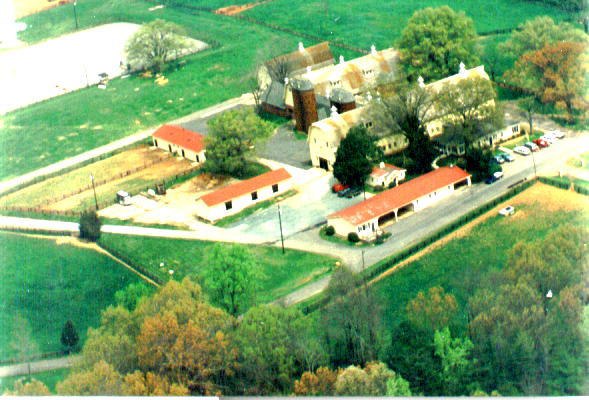 In 1875, a group of Durham's leading business and professional men formed the Quail Roost Hunting Lodge. They acquired 834 acres which became, in time, today's Quail Roost Farm. The Club obtained the right to hunt quail, dove and turkey over thousands of adjoining acres.
In 1875, northern Durham County was deep country. Today it largely remains so despite being only 12 miles from the center of Durham and being served by US 501, a four lane divided highway.
The Lodge of the Hunt Club was converted in the 1930's to a home for the farms manager. Today it is occupied by Carroll Hill Stone and her husband Clint Stone. A log cabin behind the main house, which is still in use, housed servants. The original well and its large rectangular surrounding pergola was a place to meet and relax after a long day's hunt. In that time, much of the shooting was done from mule-drawn wagons or from horseback or muleback as it still is to this day on some of the great southern shooting preserves.
By the 1920's, as farming expanded in Durham County, the population of quail decreased and interest in maintaining the Hunt Club decreased proportionately. Jonathon Daniels tells of the pressures to dissolve the corporation when members realized that each quail "cost $1,000 apiece."
Two of the key Club members were George W. Watts and his son-in-law, John Sprunt Hill. Other members included Washington Duke, his sons, Ben and Brodie, Clinton Toms and J.O. Cobb. John Sprunt Hill acquired the stock of the other members of the corporation and, in 1926, turned the farm property to the third generation, George Watts Hill.
He began the conversion of the Hunt Club property to a dairy farm. Land was acquired including several thousand acres which eventually became N.C. State University's — Hill Forest. Gradually adding the barns, homes and associated structures which today give the farm its special character, the dairy operation grew in reputation and size. At its peak there were 1,800 acres and 300 head of "Golden Guernsey" cattle. By the 1940's the farm had developed such a reputation for outstanding breeding stock that it was acknowledged to be one of the premier Guernsey herds in the world.
It's annual spring auctions of breeding stock became such a national event that Life Magazine once covered a birthday party thrown for the herds' foundation sire, High Point Prince Maxim.
Competing for attention with the Guernsey herd was the thoroughbred horse operation begun by Ann Hill, Watts Hill's wife, in 1937. Hunters, and jumpers and steeplechasers were bred, trained, shown, and raced with considerable success by Quail Roost Stables. This operation was ended in 1952. By 1965 the market for Guernsey cattle breeding stock had declined due to the demand for a higher producing, lower fat content milk. Economics dictated closing the dairy operation. Planning was begun for converting the farm to other uses. One of the Hill's sons, John Sprunt Hill II, and his wife Irmgard, made Quail Roost their home in 1969. They added to what originally had been the stable manager's cottage as their home, and began the conversion of the farm to the horse operation it is today. In 1975 they acquired the entire farm property.
Under their direction, dairy barns were converted to stables and a veterinarian operation was located in the former milking house and bull barn. Three riding rings were installed where many equestrian events are held and miles of manicured trails were cut through the hundreds of acres of oak and pine forests for trail riding. Several workman's cottages are now beautiful rental cottages.
A local fox hunting club "Red Mountain Hounds" is operated close by. Mrs. Irmgard S. Hill being one of the "Masters." Mrs. Hill also actively involved with "lure coursing" dog trials sight hounds hosts these trials plus other sports such as "foot beagling" where the pack of beagles or bassett hounds are followed on foot.
Today three generations of the Hill family still reside on Quail Roost Farm. Irmgard Hill and her daughter Carroll Hill Stone & Clint Stone with daughters Sydney, Taylor, and Morgan. Deer, fox, quail, and duck hunting are still enjoyed by family members and friends.
Irmgard Hill runs a horse boarding operation, "Quail Roost Stables" in three of the smaller barns, which house an average of around 25 boarders.
Carroll Hill Stone, John and Irmgard's daughter operates an international equestrian facility called "Equiventure LLC" in the main barn on Quail Roost Farm. Clients and their horses show nationally and internationally with the three trainers based at Equiventure. Some of the jumpers owned and trained by Carroll in the past have competed internationally in Nations Cup competitions and Olympic Games. Carroll has 25-30 clients currently residing at Equiventure.
Quail Roost, still the showplace it was in the 1930's, is registered with the National Film Guild and has had many national ads and movies shot on location.